YES! We do custom design and printing.

DISPLAY DESIGN

If, after looking through this extensive database you don't find what you are looking for, let us know. Whether you need one piece or a thousand, we can make it for you. For the highest quality and flexibility, everything is hand-fabricated, making small runs affordable.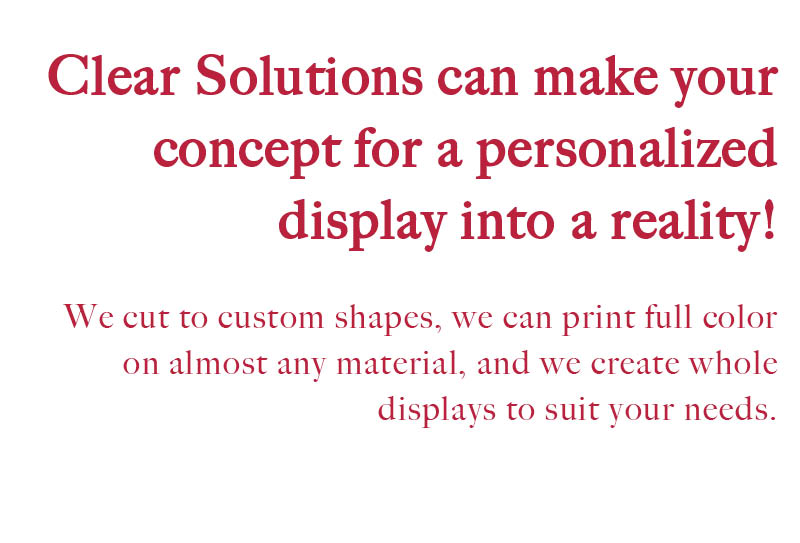 If you need a change in one of our stock items, or your own design produced, we are happy to work with you. Send us detailed specifications and measurements and we will provide you with a quote. The perfect display for your products is available in large or small qualities.
Generally, set-up fees apply for orders of fewer than 25 of a design. We have technically sophisticated fabrication capabilities to meet your most demanding needs. Set-up fees range from $100.00, which is the minimum set-up charge to modify items (changing dimensions on shelves, for instance) to a $200.00 programming charge for changing a spinner core.
Call 800-257-4550 to talk to us about your custom display needs today!
PRINTING
Clear Solutions can customize any item with a logo, company name, or image. We have printed custom designs on all types of media including acrylics, plywood, foam board, corrugated plastics, metal. And we can print on almost any material up to 1.9" thick and up to 4ft x 8ft. An initial $100 set-up fee applies to custom print orders.

Printing set up fee of $100 and $1.50 printing fee per item.
For more information, or to place an order for custom printing please contact:
Roger Wilken roger@clearsolutionsinc.com, Mel Andrews mel@clearsolutionsinc.com